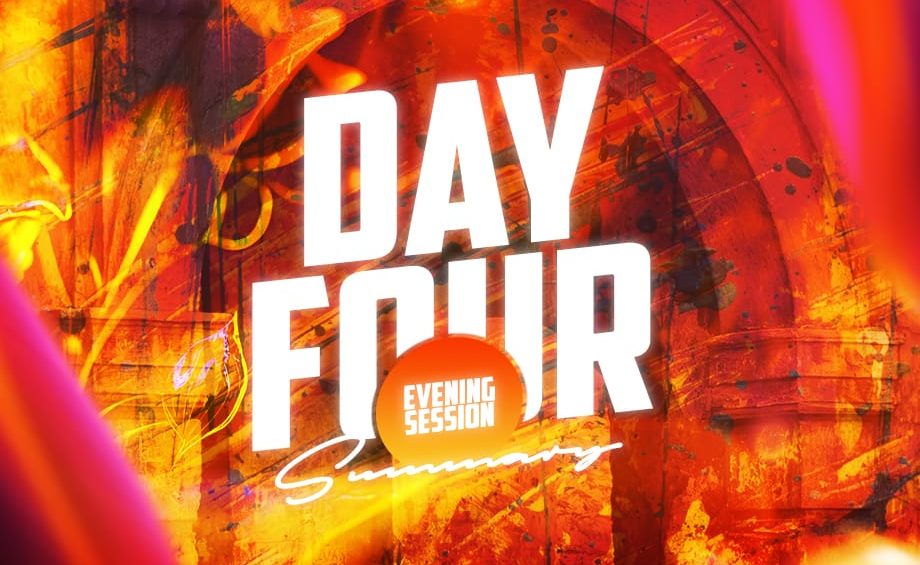 DAY FOUR EVENING SESSION (SUMMARY)
DAY FOUR
EVENING SESSION (SUMMARY)
The evening session started with series of testimony where people shared different testimonies to appreciate the name of the Lord and to encourage other believers.
Pastor Daniel Aghanenu, Regional Pastor, Region 2, was the moderator for the night.
The opening prayer was said by IP Region 4. Thereafter the choir led the congregation into a segment of praise and worship.
Elijah Daniel led the congregation into a powerful session of praise and special ministration; The atmosphere was electrified. The offering was conducted by Pastor Adedokun Israel and the introduction of the minister for the night was projected after which he came up immediately the choir gave their rendition.
Focus: You are My Last Hope
By Prophet Abiola Adebisi
NOTES:
WHAT WILL BIRTH YOUR MIRACLES
1. The place and the powers of faith – Heb. 11:1
• If you want to utilize the agency of faith, it is a NOW thing.
• Faith is what keeps you going in your spiritual journey.
You need to keep your faith. – Gal. 5:5; Isaiah 40:31; Col. 1:27; Prov. 24:10; 1 John 3:3; John 16:33; Joshua 1:6-7;
NOTES
• Faith is bigger than any trouble.
• The righteous can cry but the cry is not their end if the righteous can pray.
• You sharpen yourself and your spirit with fasting and prayer.
• Galilee is the homebase of Jesus.
• It is the flame that announces the presence of the fire.
• Fasting is a MUST! It is not negotiable.
• If you don't have a father, check your FEATHER.
• If you don't have anyone you respect, don't expect respect from anyone.
• A good shepherd must know the state of the sheep in his care.
• Being a Pastor is just a TITLE.
• By fasting you discover your day.
• FIRE makes you visible; It makes your fame spread abroad.
PRAYER!
OH, YE MY DAY, VOMIT FIRE FOR ME!
The session was brought to a close after the Prophet raised seeds for Gofamint TV. People came out in numbers and donated cheerfully to that cause. Evangelist Falade was invited to round off the session with prayers. Afterwards, Pastor Moses Akinyetun gave the announcements and the General Secretary gave the benediction.