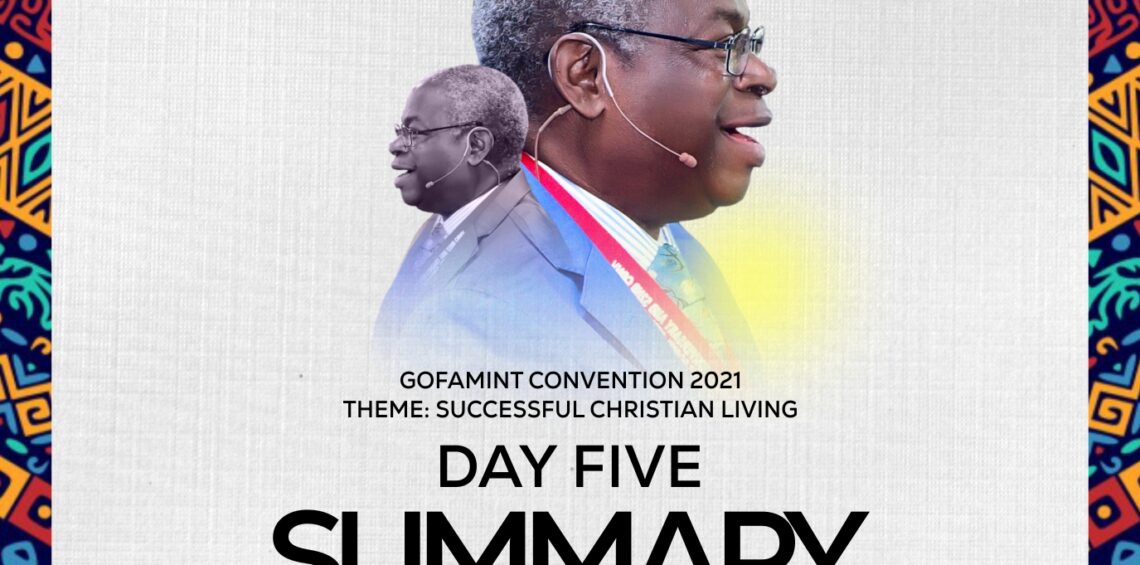 Convention 2021 Day Five Summary
GOFAMINT CONVENTION 2021
THEME: SUCCESSFUL CHRISTIAN LIVING
DAY FOUR: MORNING SESSION
Moderator: Pastor Dr. Seun Ajileye
SUMMARY
The morning session began with the Convention Theme Song after which the minister for the morning supplication was introduced to the podium.
MINISTER: Pastor Abel Afolabi
TOPIC: DIVINE RESOLUTION OF ALL FAMILY RELATED PROBLEMS AND MARITAL DELAYS AMONG MATURED YOUNG PEOPLE
POINTS:
Restore to your factory settings, whatever area the devil has tampered in my life.
Every curse from the kingdom of darkness that is working against the peaceful co-existence of God, scatter it in the name of Jesus.
Oh God, divert and scatter every arrow from the kingdom of darkness against the survival of my family.
Lord as you cancel to counsel of Ahithophel over David, every counsel of the devil over my family, Lord scatter it.
The choir led the congregational hymn (GHB 79)
MINISTER: PASTOR AMOS FALOPE
TOPIC: MORE THAN A CONQUEROR
TEXT: Romans 8:37; Romans 4:16; 
POINTS:
You can't live a successful Christian life if you're not a Christian.
If you're saved because of heaven, then you should've been taken home.
You can't get rid of sin if you can't deal with the consciousness of sin.
If you're not a Christian, you can't grow to be like Christ.
You can't seek those things above if you're not sitting with Christ.
If you are in Christ, you're in heaven. Not until you die.
Grace is not what we need, Grace is all we have.
Faith takes what Grace makes available.
More than a conqueror is a state, not of who or what we were. It is a reality of what and who we are in Christ Jesus.
Being more than a conqueror is a reality of sonship.
MINISTER: PASTOR DR. E.O. ABINA
TOPIC: THE CHRISTIAN AND THE LOCAL CHURCH
POINTS:
If the community around your local church doesn't feel your presence, the church is not alive.
Church growth is not dependent of the Pastors alone, infact it is the responsibility of everyone including the members.
As Christians, we've been called to be shining lights to the rest of the world.
Every Christian in a local assembly has a responsibility.
In the local church, our gifts are to complement each other not to compete.
What God calls the church is not the building structure but the people of God.
If you don't defend the unity of your church, you're not a child of God.
There was an alter call, people who wanted to rededicate their lives to God came forward and they were prayed for after which the benediction was said.
It is once again another moment of truth and raw gospel!
Thank God for the success of the morning session of the fifth day at the convention 2021.
GOFAMINT CONVENTION 2021
THEME: SUCCESSFUL CHRISTIAN LIVING
DAY FIVE: EVENING SESSION
SUMMARY
The evening session started with a powerful session of praise by the praise team after which the choir led us into the congregational hymn (GHB 119).
The below testimonies were taken before the service offering was taken by Pastor James Fabiyi.
Sis Fagbamila – I was married for over 5 years without a fruit but God gave me a baby miraculously.
Fowowe Oyindamola – I had fibroid and was operated on severally. I thank God because all operations were successful and I believe that I am coming to next year convention with my Elijah and Elizabeth.
Adaralegbe (Region 10) – I am the first born in my family and I didn't have a spouse. In 2017, I got married and started having series of miscarriages due to sicknesses but in 2019 before convention, I missed my period. After the convention, I slept and I started having the symptoms I used to have that causes loss of pregnancy but as a result of the convention in 2019. I prevailed and I have a baby now. Glory!
Aladejiyo Folusho (Region 3) – In 2014, I had my marriage but I was having several miscarriages and still birth. In 2019 the God of Baba Abina gave me a bouncing baby boy.
The Choir gave their selection and Evang. Falade led an offering and collection of vows for covenant HOSAM. The voice over introduction was played and the Guest Minister came up.
MINISTER: Prophet Adebisi Abiola
TOPIC: LOOSE HIM AND LET HIM GO
TEXT: John 11:43; Psalm 68:6; John 9; Jeremiah 25:8-14; Deuteronomy 1:28-40; Hosea 4:6; Isaiah 8:10; 2 Kings 6:1; Numbers 11:2; Acts 3:19; Isaiah 63:8; Isaiah 44:4; Revelations 2:17
NOTES
Jesus can come late but He can never come too late.
Jesus is interested in your rising.
Being a member of a particular ministry will not save you on the day of judgement but your ministry will save you.
Angels will not come to visit you but they will come to visit you at your location, when you miss your location; You will miss your allocation.
Humility is not prostrating or kneeling; humility is how you respond to issues against you.
The devil you don't cast out will cast you out.
If there's no result for prayers; prayer would've been eradicated.
Recognize the position of an elder
The rising of a ministry is not dependent on the leaders but on the followers.
In times of trouble the young ones won't hear your voice but the elders will.
Do not fight an elder who will show you the way.
If you're becoming 'wiser' than your elder, you will never get to the top.
Receiving the mantle is not just by following, it is spurred by sacrifice.
An elder you don't recognize cannot bless you.
Confession brings possession.
After repentance and conversion, refreshment comes from the presence of God.
God is not looking for a perfect man, He is on the lookout for a growing man.
If God hasn't surnamed you, you can surname yourself through confession.
When God gives you a new name, you have the password, no one knows it until you give it out.
PRAYERS
Tonight, no matter your situation or circumstances; God's promises will come to pass in your life.
Any evil background that wants to put your back on the ground is nullified in the name of Jesus.
Every righteous that the world is tormenting, you will share testimony tonight!
Any accuser accusing me and my household, BE EXPOSED!!!
Every spirit of "almost getting it" is terminated in Jesus Name.
You will meet the elder who will show you the way.
Everyone that has been sent to my life.
Any elder sent to me, Holy Spirit lead them into my life!
Any confession I should have made that is incurring the wrath of God into my life; As I pray tonight, let your grace speak for me.
Father, I am calling myself tonight into the righteousness and obedience of God. Father, make me yours!!!
The evening service ended with an altar call that came with instant deliverance and miracles.
Glory to God for the success of the miracle night, it was indeed a night filled with miracles.
#Convention2021
#ChristianLiving
#Scl21
#Gofamint