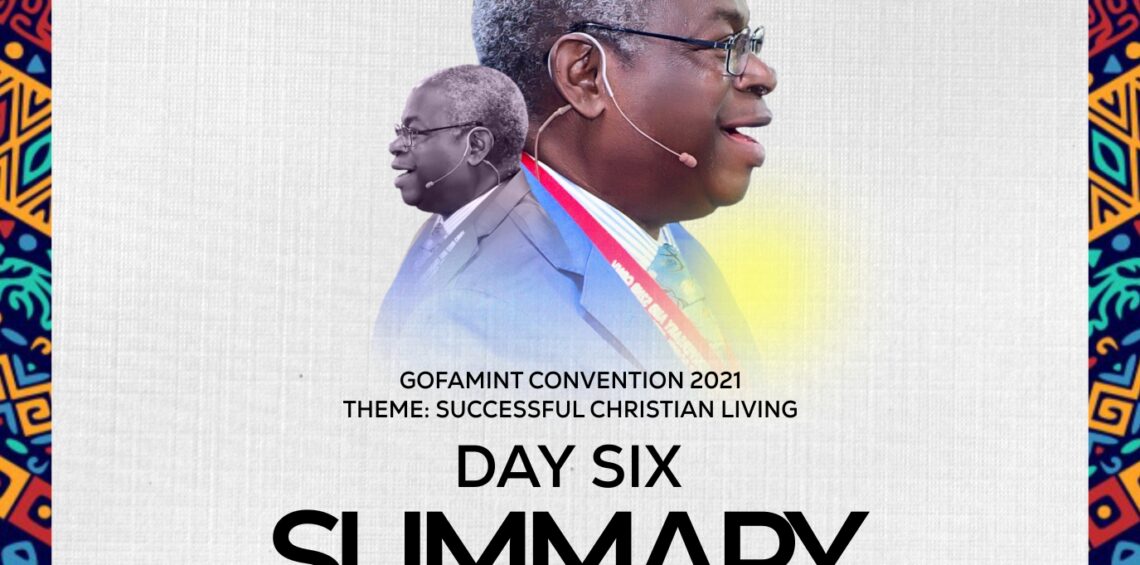 Convention 2021 Day 6 Summary
GOFAMINT CONVENTION 2021
THEME: SUCCESSFUL CHRISTIAN LIVING
DAY SIX: MORNING SESSION
SUMMARY
As usual, we gave God Praises for the mighty works He's done amongst us thus far. This was immediately followed by a prayer session for GOFAMINT globally and some other issues were prayed about too. The hymn procession (GHB 152) was then taken before we gave out our offering with joy in our hearts and dance on our feet anchored by Pastor D. Lordacquit.
The General Overseer was ushered in after the choir selection.
MINISTER: PASTOR (DR.) E.O. ABINA
TOPIC: THE CHRISTIAN AND SOUL WINNING
POINTS
Members that are not taught cannot grow.
The church cannot grow if we do not evangelize.
Soul winning makes Christians and the church active and productive.
Evangelism is not done in the church; it is done outside the church.
Today we are money-centric and not mindful of lives.
As members of Pentecostal churches, unbelievers are watching us.
You can have charisma and lack character.
Sell Jesus to others not yourself.
Our fear should be meeting Jesu without a soul for him in our hands.
Soul winning is fundamental and every believer should play active role in it.
We make converts instead of making them disciples or responsible church members.
Soul winning is as necessary as prayer and should not be seen as an extracurricular activity in the church.
The best way to win soul for Christ is person to person.
To the pastors; If you want your church to grow without issue, don't have too many elders.
The General Overseer prayed for some sets of people after which there was a roll call for ETF Awardees, the G.O. blessed them and the ordination began. The General Secretary (Pastor Femi Omowumi) gave a short exhortation after which the ordained were blessed for their new responsibility.
Immediately after the ordination, the benediction was said.
Thanks be to Jesus!
GOFAMINT CONVENTION 2021
THEME: SUCCESSFUL CHRISTIAN LIVING
DAY SIX: EVENING SESSION
SUMMARY
The evening meeting started with the opening prayer followed by the praise and worship. The congregational hymn was conducted (GHB 9) by the choir. Though with so many showers of blessings. The service offering was coordinated by Pastor Rufus Adeyemi after which the choir gave their ministration.
The minister for the evening was introduced with the amazing voice introduction and the MIRACLE SERVICE started.
MINISTER: EVANG. (DR.) E.O. FALADE
TOPIC: AT THE NAME OF JESUS, EVERY KNEE SHALL BOW
TEXT: Philippians 2:9-11; Jer. 32:17,27; Job 36:11; Proverbs 16:7
POINTS:
In the calendar of eternity, there's always a day of remembrance.
Miracle is not the business of man; It is the business of God.
Your iniquity can deny you of many miracles.
Mercy will delete your errors while grace will secure your future.
PROPHECIES
Unusual hands tormenting your life cripple tonight.
Every affliction given to you by the enemy will return to the sender tonight.
After today, you will look for the battle in your life and you won't find it.
PRAYER POINTS
Every power staring me in the face, bow tonight.
You power of my fathers' house I command you to bow before me now.
Whatever embargo the enemy has placed on me, Father destroy it tonight.
Father, let mercy speak for me tonight.
Cripples with crutches walked perfectly and several instant miracles happened during the ministration.
The miracle service ended with prophetic prayers by the Deputy General Overseer and the benediction was shared by Prof. S.O. Ewuola.