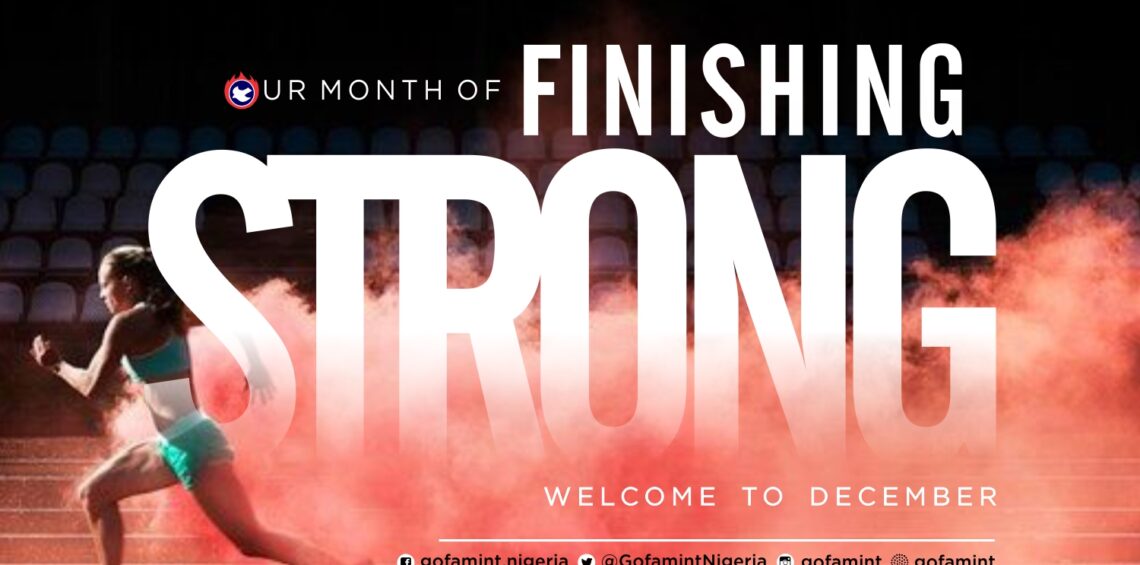 WELCOME TO DECEMBER 2020 – OUR MONTH OF FINISHING STRONG
WELCOME TO DECEMBER 2020 – OUR MONTH OF FINISHING STRONG
Psalm 65:11 New King James Version (NKJV)
You crown the year with Your goodness, And Your paths drip with abundance.
This is your month of FINISHING STRONG, you will finish this year strong.
Supernatural turnaround will be your portion.
God will crown this year with his goodness and abundance for you.
You will end this year STRONG.
Shouts of joy will erupt in your household.
As this month is the terminal month of the year, every negative experience in your life, is terminated in the mighty name of Jesus.
Physically you will be strong, spiritually you will be fervent, financially you will be buoyant; in every sphere of human endeavor you will demonstrate strength.
Cycles of failure, frustration, disappointment and toiling is hereby terminated
Unusual strength for uncommon achievements locate you now.
Obstacles will bow before you this month
Barriers will crumble before you this month
Circumstances mocking the greatness of God in your life is hereby silenced forever
Uncommon victories, exploits and testimonies locate you now.
You will not fall
You will not backslide
'Mountains' will bow before you
You will defeat every giant that contend with you.
Shouts of victory shall be heard in your camp
Strength, strategies and resources to finish every good thing you have started, receive it now.
Grace for speedy completion locates your efforts as from now on.
Mercy will locate you, favor will turn things around for you.
You will not leave this month empty handed, God will load you with his bounties. You will finish this year on a strong note.
Every good thing that you have not been able to accomplish for the past eleven months, go now and accomplish them in the mighty name of Jesus.
So, shall this month be better than the last for you because the Lord will deal wondrously with you. In Jesus mighty name.