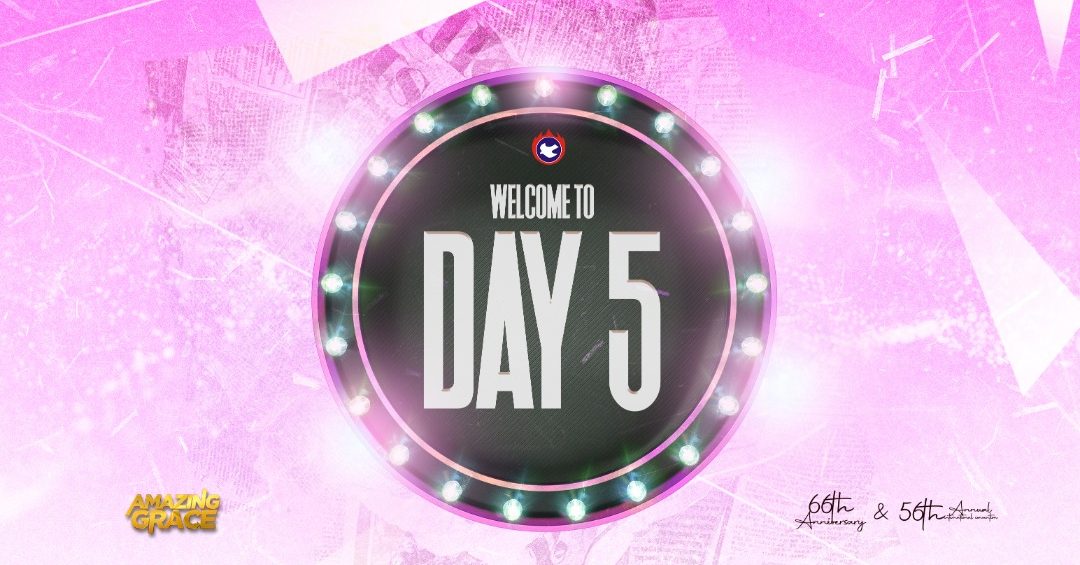 SUMMARY DAY FIVE (EVENING SESSION) – HOLY GHOST NIGHT
SUMMARY DAY FIVE (EVENING SESSION) – HOLY GHOST NIGHT
The evening meeting began with glorious incense of worship and praise which ascended to heaven through the voices of the saints converged at this year's AMAZING GRACE convention. The congregational hymn (G.H.B. 70) was rendered and after that, the scriptural reading was taken in preparation for the outpouring of the spirit (Acts 2:1 – End).
A testimony was anchored by Pastor Paul Edu to profess and showcase the excellence and faithfulness of the Almighty God. The DDF (Pastor S.O. Adebayo) was introduced to take up the service offering.
Evang. Samuel Okomolehin was invited by the moderator to introduce the minister for the evening.
The bishop came up immediately after the rendition of the choir and yes, there was an evident flow of the anointing of John the Baptist on the choir ministration because the atmosphere was charged in the spirit before the mounting of the podium of the minister for the night.
Minister: Bishop Francis Wale Oke (President, PFN)
Text: John 6:63; Isaiah 10:27; Acts 1:8; Luke 3:21, 22
Topic: The Quickening Spirit
NOTES
• Anytime the word answers to the spirit, miracles happen
• The Spirit of God is the chief executive of God's operatives on earth.
• Show me a church rooted in the Spirit like GOFAMINT, they move from strength to strength.
• When you're filled with the Holy Spirit, you're unstoppable.
• The Holy Spirit is the power of God.
• When the Holy Ghost comes upon you, power comes.
• If you're born again and you are not yet baptized; You are not yet BORN AGAIN.
• Without the Holy Spirit, no power.
• Everything you need is in the custody of the Holy Ghost.
• When a prophetic word comes out of the Holy Spirit, no one can stop it.
• Wherever the Holy Spirit is moving; Different miracles happen
• The anointing represents the glory of God.
• A greater measure of anointing is always available for those who are hungry for it.
• The reason most Christians remain small is because they don't yearn for more.
• God takes us from glory to glory.
• In the school of God's glory, nobody graduates.
The night was one filled with the Holy Spirit and fire. Prayers rose up to heaven immediately the bishop of the night launched the congregation into the atmosphere of prayers after which the grace was said and the beneficiaries of the AMAZING GRACE convention dispersed in great anticipation of what God has to do in the remaining laps of the convention.
HALLELUJAH!
#Day5
#AmazingGrace
#Convention2022
#Gofamint