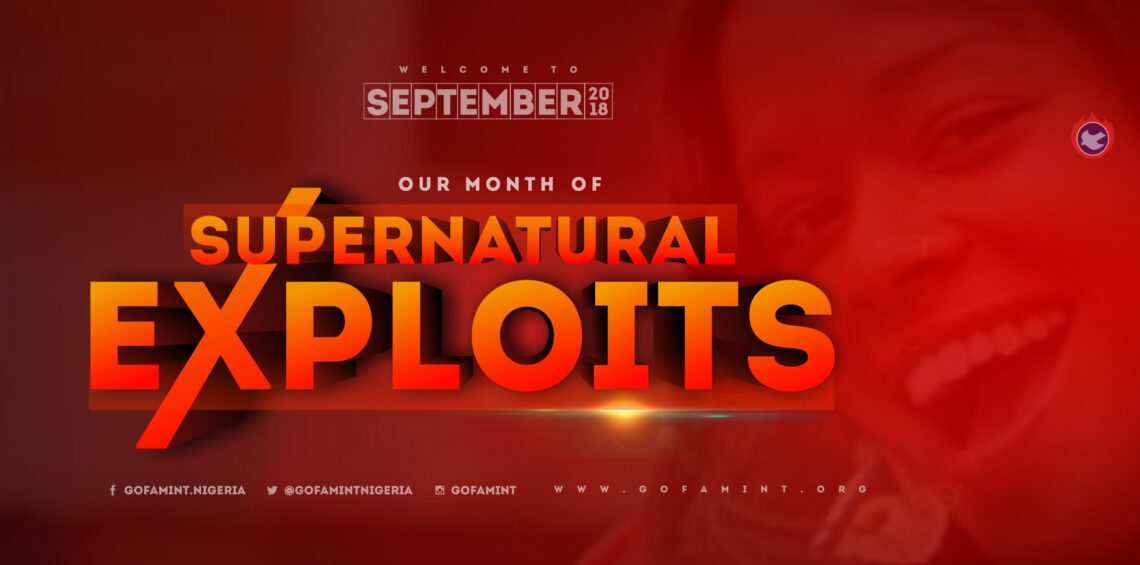 PROPHETIC DECLARATION FOR THE MONTH OF SEPTEMBER  2018
PROPHETIC DECLARATION FOR THE MONTH OF SEPTEMBER  2018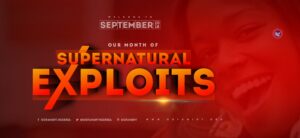 Daniel 1:32  And such as do wickedly against the covenant shall he corrupt by flatteries: but the people that do know their God shall be strong, and do exploits.
WELCOME TO SEPTEMBER 2018 – OUR MONTH OF SUPERNATURAL EXPLOITS.
Get ready to accomplish impossible feats this month as the supernatural power of God, powers you on to great achievements.
In the name of Jesus, I launch you into the era of greater works – receive it now in Jesus name.
Break through bounds, run through troops, possess new territories, in Jesus precious name.
This month mountains will crumble before you.
You shall be for signs and wonders.
Over that long-standing problem, you will testify.
God will strengthen your hands to accomplish great things.
Impossibilities will speedily submit to you.
Your knowledge of God will increase exponentially.
Divine insights that commands exploits are yours now.
You will operate in a higher supernatural dimension.
Supernatural revelation that causes breakthrough and elevation receive it now.
Every debt hear the voice of the Lord, you are a thing of the past.
Your misfortunes are converted to fortunes.
Where you have failed you will now succeed.
The resources to accomplish the dream that God has placed in your heart is released to you now.
Covenant helpers of your destiny locate you now.
As from now, every good thing will answer to you.
God will enlarge your coast
I declare you blessed in all things.
You shall be strong spiritually, financially, materially, emotionally, physically and socially.
Grace will speak for you.
Mercy will shield you.
Favor will command your undertakings.
Your weaknesses are now converted to strengths
So, shall you do great exploits this month for the God of heaven will mightily help you and this month shall be a month of reference for you, because the Lord will deal wondrously with you. In Jesus mighty name.