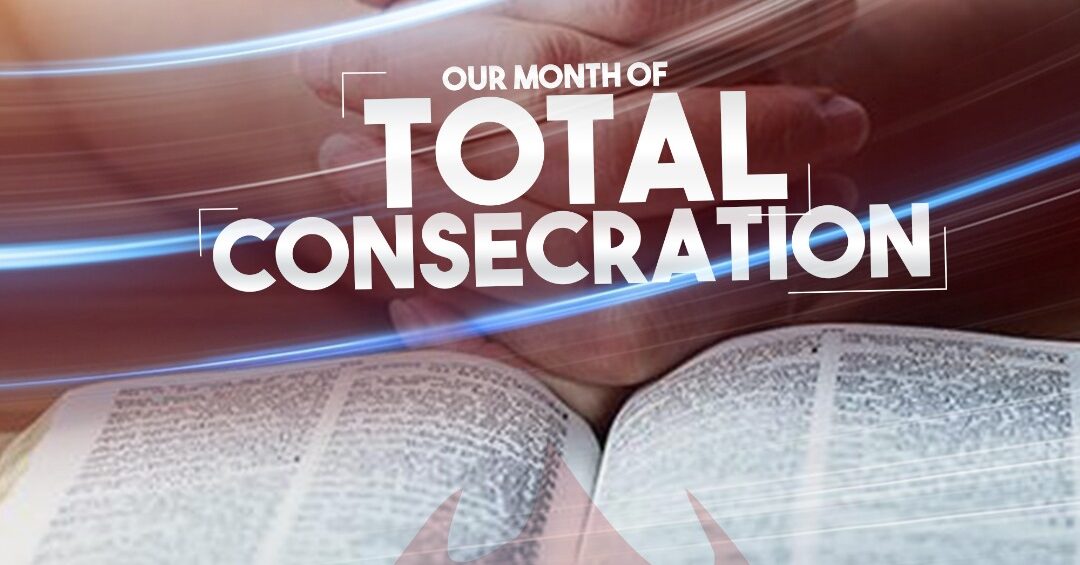 PROPHETIC DECLARATION FOR THE MONTH OF OCTOBER 2019
PROPHETIC DECLARATION FOR THE MONTH OF OCTOBER 2019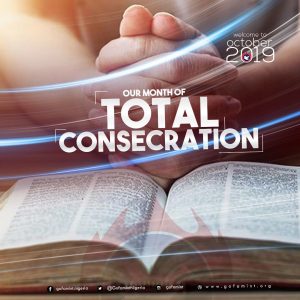 WELCOME TO OCTOBER 2019 – THE MONTH OF TOTAL CONSECRATION
Joshua 3:5 New King James Version (NKJV)
5 And Joshua said to the people, "Sanctify yourselves, for tomorrow the Lord will do wonders among you."
This is your month of TOTAL CONSECRATION
As you set yourself apart for God, from this month and beyond you shall begin to see the hand of God, moving mightily in all your undertakings.
Grace to live a life that is pleasing to God is released unto you.
Grace to give total expression to the Holy Spirit in your life is released to you.
Grace for total obedience and uncompromising holiness is your portion.
The blood of Jesus purges you from all unrighteousness.
Sin will have no dominion over you.
Victory is yours!

Over the flesh
Over the devil
Over the world
Victory is yours

Your weakness is turned to strength.
Your place of spiritual struggle is turned to a place of spiritual triumph.
No more falling and rising, you will soar higher.
You will go from strength to strength, from grace to grace, from glory to glory.
Thirst and hunger for the things of God are released to you.
Fresh fire for intercessory prayer and holiness is your portion.
Grace to win souls for the kingdom is released to you now.
Your life will attract people to God.
You will soar higher in the spirit.
You will do exploits for God.
The work of the kingdom will prosper in your hands.
As you consecrate yourself, God will do wonders in your life

That which is difficult will become easy.
The impossible will become possible.
Your mountains of problems will melt away.
Your symbolic River Jordan will dry up.
Long-standing problems will vanish.
Your symbolic wall of Jericho will collapse.
Sicknesses will disappear.
Unstoppable blessings are your portion
God will move you from expectation to fulfillment

In the mighty name of Jesus

All-round peace, power, and progress is your portion.
So, shall this month be better than the last for you because the Lord will deal wondrously with you. In Jesus mighty name.