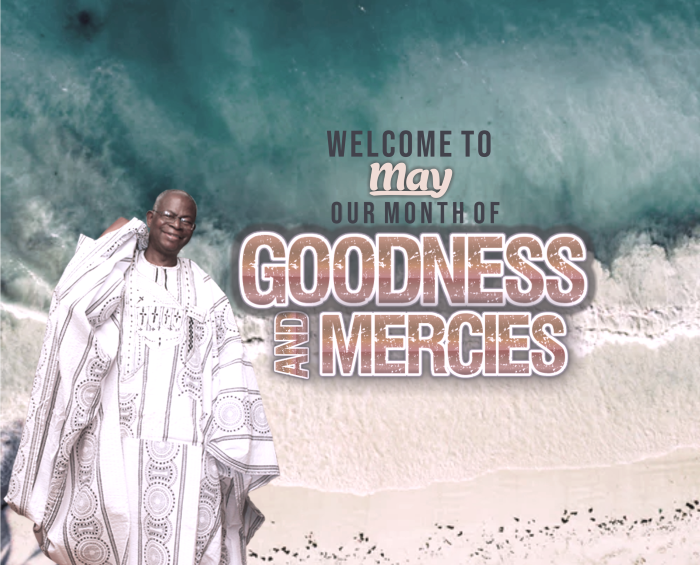 PROPHETIC DECLARATION FOR THE MONTH OF MAY 2019
PROPHETIC DECLARATION FOR THE MONTH OF MAY 2019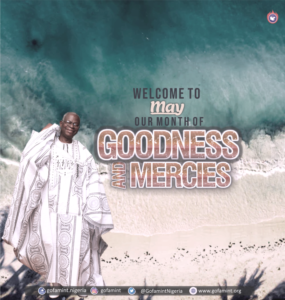 WELCOME TO MAY 2019 – THE MONTH OF GOD'S GOODNESS AND MERCIES
Psalm 23:6 New King James Version (NKJV) Surely goodness and mercy shall follow me. All the days of my life; And I will [a]dwell in the house of the Lord Forever.
Isaiah 30:8 New International Version (NIV) Yet the LORD longs to be gracious to you; therefore he will rise up to show you compassion. For the LORD is a God of justice. Blessed are all who wait for him!
This is your month of God's goodness and mercies
O taste and see that the Lord is good, this month you will taste and enjoy the Lord's goodness.
Your eyes will see the goodness of the Lord in the land of the living
Your mouth shall testify to the goodness of the Lord this month.
Your hands will possess your possessions this month
The preserving mercies of God will preserve you from every evil.
By his preserving mercies you are healed from all sicknesses.
Evil medical verdict or report is now revoked
The goodness of the Lord manifest in your body systems
Your body, spirit and soul now answers to the divine protocol of wholeness and total perfection.
You shall not be consumed.
Whatever can be labelled as "not good in your life", is removed now by the mercies of the Lord.
By the goodness of the Lord, debt are being cancelled now.
Cycle of hardship is broken now.
Storms of life are hereby terminated.
Whatever you cannot obtain by personal effort, the supernatural mercies of God delivers them to you now.
Uncommon Help locate you. Uncommon favour, uncommon mercies, uncommon results attend to you this month.
The goodness of the Lord moves you from

unprofitable labour to favour.
from toiling to net breaking harvest.
from the arena of mockery to the platform of celebration

Toiling without result is not your portion
Where others are not getting results, you will celebrate uncommon results
Every area where you have given up, is now revisited by God for miraculous consideration.
You are a candidate of miracles, receive your portion now.
Supernatural blessings are yours receive it now.
The qualifying mercies of the Lord will speak for you this month, it will qualify you for things you are not qualified for.
Favour will answer for you, grace will accompany your efforts.
No more delay, receive your expectation now.
You cannot remain the same this month, you cannot remain the same. The goodness and mercies of God is activated for your total turnaround now, in the majestic name of Jesus.
So, shall this month be better than the last for you because the Lord will deal wondrously with you. In Jesus mighty name.