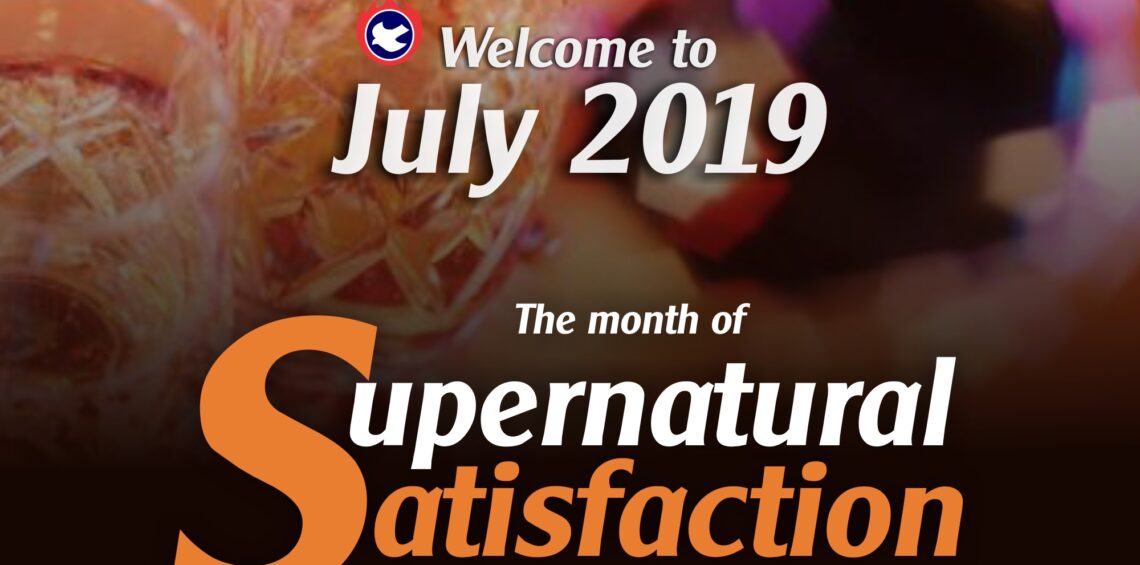 PROPHETIC DECLARATION FOR THE MONTH OF JULY 2019
PROPHETIC DECLARATION FOR THE MONTH OF JULY 2019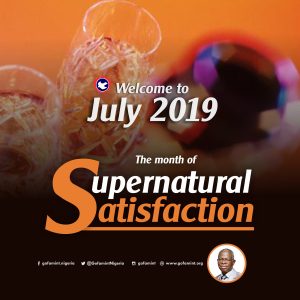 WELCOME TO JULY 2019 – THE MONTH OF SUPERNATURAL SATISFACTION
Psalm 103:5 AMPLIFIED BIBLE CLASSIC EDITION "Who satisfies your mouth [your necessity and desire at your personal age and situation] with good so that your youth, renewed, is like the eagle's [strong, overcoming, soaring]!"
Hear me! Everything will work for your supernatural satisfaction this month.
The God of heaven will quench your thirst and satisfy you early this month.

With what money can buy
With what money cannot buy

Those good things you have pursued without getting them, will suddenly overtake you this month.
Testimonies will erupt in your household.
Every vaccum of good things in your life is now filled in the name of Jesus.
Prosperity and good success will answer to your efforts.
The resources to accomplish your God given visions and dreams are released to you now in Jesus name.
Sudden helpers wherever you need them will attend to you.
Those experiencing setbacks, your total restoration and recovery is now, receive it in the name of Jesus.
Cycles of disappointment, frustration, ill-luck, depression and failure is broken now.
I speak satisfaction over every area of your life.

Spiritually you shall be satisfied
Over your work you shall be satisfied.
Over your marriage you shall satisfied.
Over your children you shall be satisfied.
Over your health you shall be satisfied.
Financial satisfaction is yours.
Uncommon elevation locates you in your career now.
Your investments will yield mega returns.

For those who desire a better Job, Jesus the good shepherd will lead you to good pastures.
Favour will speak for you. Mercy will locate you.
Time will work in your favour. Your overdue blessings locate you now.
The delay is over. Move into accelerated fulfillment. In the mighty name of Jesus.
Those who are going through tough times, your sorrow is turned to joy, your weeping to dancing. You will testify.
Like an eagle, you will soar higher, above all problems and negative situations.
You will never be beneath, you will always be above.
You will always have more than enough.
No more postponement of good things in your life.
Your blessings shall no longer be diverted.
The expectation of the wicked concerning you is totally frustrated and terminated. It shall not come to pass.
Your youth is now renewed like that of an eagle, supernatural strength is yours in Jesus name.
Lack of fulfillment in life is terminated in Jesus name.
You shall be satisfied with good things.
Testimonies will erupt in your household.
"The Lord bless you and keep you; The Lord make His face shine upon you,
And be gracious to you; The Lord lift up His countenance upon you,
And give you peace."
So, shall this month be better than the last for you because the Lord will deal wondrously with you. In Jesus mighty name.
#GOFAMINT