[slideshow slug_group="slideshow-1″][address_parent][address_item font_awesome="fa-calendar" title="Date" date="August 02-08-2021″ width_column="4″][address_item font_awesome="fa-map-marker" title="Location" date="Gospel City, Along Ibadan-Lagos Exp. Ogunmakin" width_column="4″][address_item font_awesome="fa-registered" title="Register" date="www.register.gofamint.org" width_column="4″][address_item font_awesome="fa-microphone" title="Speakers" date="Pastor (Dr.) E.O Abina and others" width_column="4″][/address_parent]
[heading title="SPECIAL GREETINGS" subtitle="/ From: The General Overseer, GOFAMINT Worldwide, Pastor (Dr) E.O Abina" fontclass="fa-star" delay="300″]
I specially welcome you to the official website of The Gospel Faith Mission International (GOFAMINT). GOFAMINT.org is dedicated to bringing inspirational spiritual nourishment to light using the medium of I.T (Information Technology) to Preach the Word of God and bring people into the membership of God's family; To teach the Word of God, to enhance freedom, promote Christian maturity and bind the people to God for service, and to live the Word of God, to demonstrate the new life in Christ to the world, and ensure security of the believer.
[thumbnail thumbnail="12263″ alt="Alt" pathimage="12263″ path="146″]
[thumbnail thumbnail="12265″ alt="Alt" pathimage="12265″ path="147″]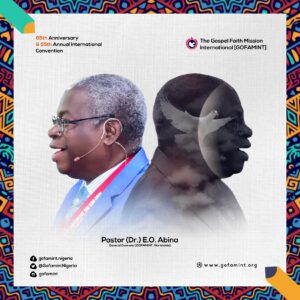 [heading title="GOFAMINT Annual International Convention" subtitle="/ 2021″ fontclass="fa-ticket" delay="300″]
We use this medium to invite you to the 65th Anniversary and 55th International Annual Convention.
Date: Monday 2nd – Sunday 8t, August 2021
Venue: Gospel City, Lagos/Ibadan Expressway, near Ajebo, Ogunmakin,Ogun State
[heading title="Conference Schedule" subtitle="/ dont forget it" fontclass="fa-star" delay="300″]
[button title="Download Schedule" link="https://www.gofamint.org/wp-content/uploads/2016/05/Convention-Prog.pdf" target="inline" fontawesome="fa-print" margin="0px 0px 20px 0px" class="btn-theme-lg btn-theme-transparent-grey pull-right"]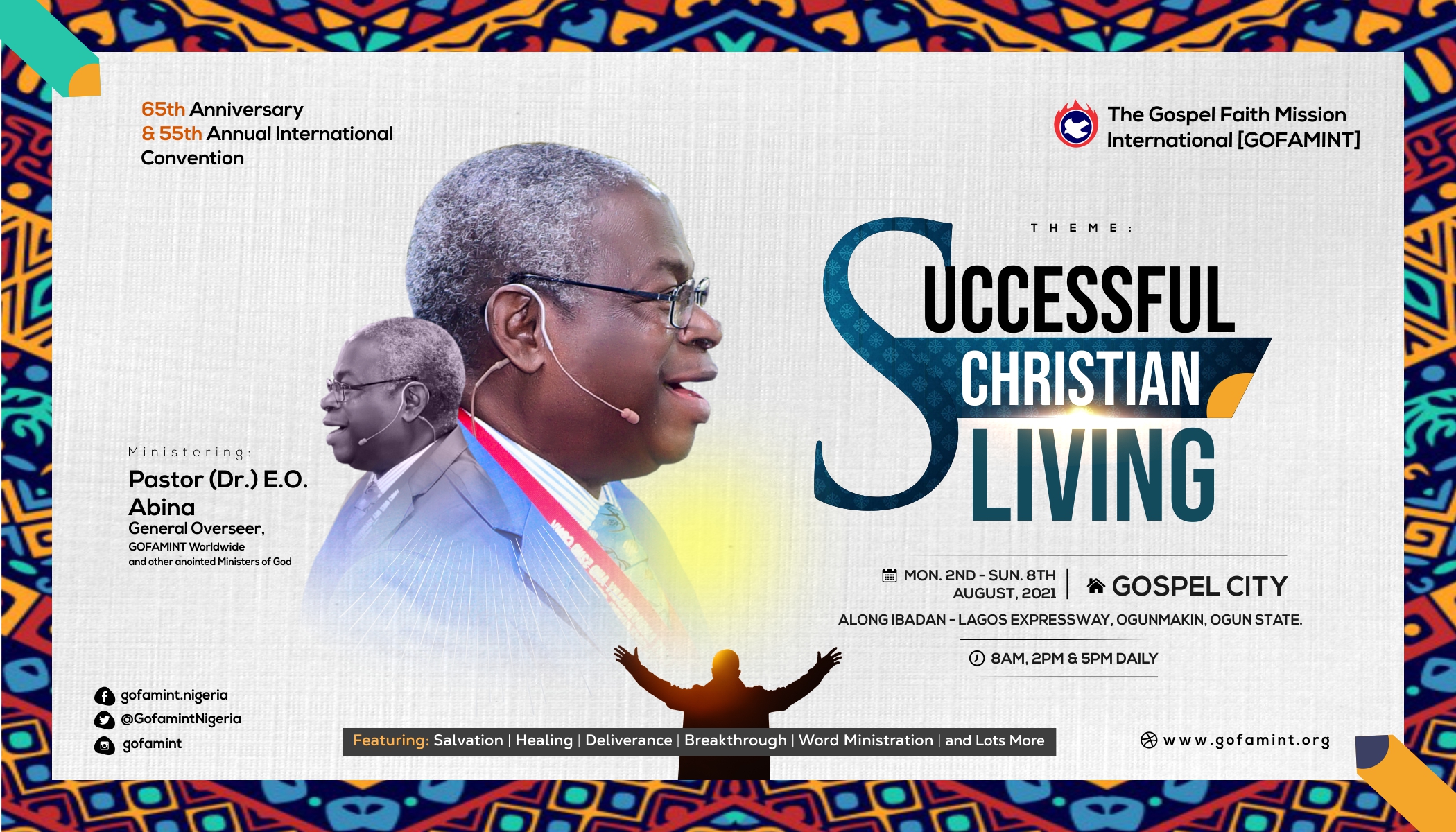 [schedule array_slug="day-01, day-02, day-03, day-04, day-05, day-06, day-07″]
[heading title="About" subtitle="/ GOFAMINT" fontclass="fa-address-card" delay="300″]
The Gospel Faith Mission International (GOFAMINT ), the Church with the Word for the World, founded on the Solid Rock by God, through a small group of committed men and women led by the late Pastor (Dr) R. A. George at Iwaya, Yaba Lagos, has transformed into a divine legacy that has today assumed a global dimension…
[heading title="Aims" subtitle="/ GOFAMINT" fontclass="fa-crosshairs" delay="300″]
The Gospel Faith Mission International is an organisation, which aims at preaching and teaching the gospel of our Lord Jesus Christ. We do not preach denomination but we do preach indivisible church of Christ in the world. We believe…
[heading title="Monthly Prophetic Declarations" subtitle="/ Claim it" fontclass="fa-church" delay="300″ class="text-left"]
[heading title="testimonies" subtitle="/ See What People Say About Us" fontclass="fa-comments" delay="300″][testimonial][item_testimonial thumbnail="12413″ alt="God gave me a new job!" author="Ogwu Abraham Dayo – Akure."] I want to thank the God of GOFAMINT for providing me a new well paid job compared to what I was earning.
I prayed and asked God during the convention for a change of level and he did it. To him be the Glory, Honour and Power. Amen[/item_testimonial][item_testimonial thumbnail="12413″ alt="Admission into Higher Institution of learning" author="Ehinola Gbenga Daniel"] I thank God for d salvation of my soul. For 3 years i was seeking admission, but glory to God he gave it to me. Glory to God. [/item_testimonial][item_testimonial thumbnail="12413″ alt="Restored Certificate" author="Halleluyah Ojo Olasunkanmi"]The prophetic declaration of GO for February declared that all that we lost shall be restored. I received back my seized certificate for over four years on the first day of february. [/item_testimonial][/testimonial]